Treatment Options
There are different types of termites in our area. As a locally owned company, we have the experience and knowledge to identify the type, eliminate their infestation, and keep them from returning. We guarantee our complete treatments for 5 years for subterranean and drywood termites.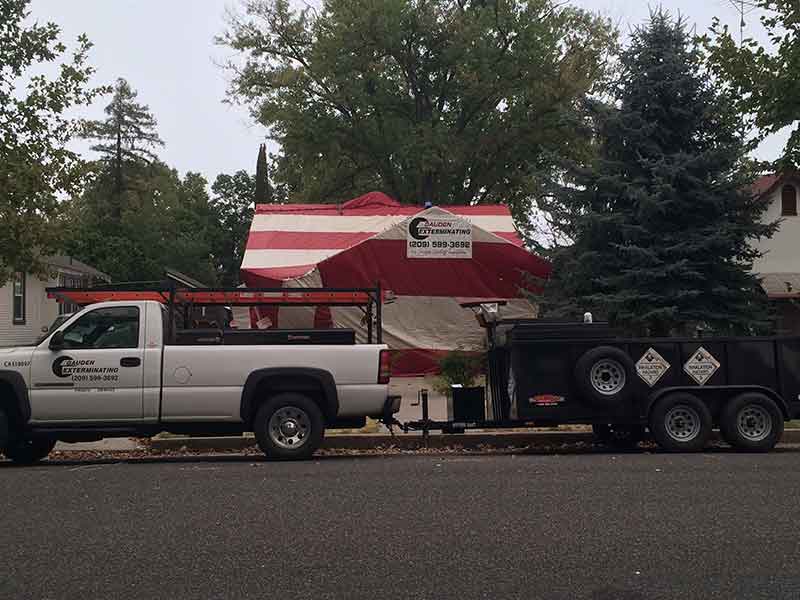 Fumigation
Fumigation involves placing a vinyl coated tarp over the structure and containing a lethal gas to eliminate the drywood termite colonies. Identifying all colonies is nearly impossible. Fumigation is the only complete structure treatment with proven success. Drywood termite fumigations provide a 5 year guarantee to the entire structure and are still, dollar for dollar, the best value. Learn more about fumigation.
Liquid Termiticide Applications
For complete subterranean termite treatments, we recommend Termidor HE. Other methods (alternative liquids and baits) are substandard in comparison. Termidor HE (non-repellant material) in conjunction with the termite's social behavior leads to complete control within weeks. Complete subterranean termite treatments provide a 5 year guarantee to the entire structure.
Local Treatments
Local treatments for drywood termites and subterranean termites are performed with a variety of termiticides and foaming agents. Local treatments require monitoring on an annual basis and, at times, require disruption of finished interior and/or exterior surfaces. Local treatments provide only a one year guarantee to the treated areas.
Wood Boring Beetle Treatment
There are a variety of recommendations a Gauden Exterminating inspector may make for ridding your home of wood boring beetles. Adding ventilation to help reduce moisture may be suggested to prevent future infestations. Gauden Exterminating technicians may also remove and replace damaged wood while treating adjacent wood with insecticide specific to the control of wood boring beetles. In the case of heavy infestation, fumigation may be recommended.